Jakarta Globe mengulas tentang misi utama Jualo.com serta keinginan untuk menjadi situs e-clasifieds terbesar di Indonesia. Dalam artikel ini, Jakarta Globe melakukan wawancara dengan sang pendiri Jualo.com, Chaim Fetter. Seperti apa serunya perbincangan Chaim Fetter dengan Jakarta Globe? Simak artikel lengkapnya berikut ini.
===
The Jakarta Globe — The main mission behind Jualo.com, a Jakarta-based online marketplace for secondhand goods, is simple: to continuously adapt to buyers' needs. However, it was one that Jualo founder Chaim Fetter thought was missing from the secondhand e-commerce scene in Indonesia.
"We saw our competitors focusing on sellers instead of buyers. All of the advertisement you see focuses on the sellers. But our perception is if we focus on the buyers and make an environment where the buyers can trust, then the sellers will come automatically," Fetter said to the Jakarta Globe in Jakarta on Nov. 7.
"So, we decided to focus and put our DNA on the buyers, not the sellers. This means listening to the buyers and adapting to their demands."
With a young and tech-savvy citizens, Indonesia has often been touted as the promise land for online shopping sites that are brave enough to conquer its massive population size and dispersed geography.
So, after spending over a year interviewing the buyers of their competitors and planning the business, Fetter launched Jualo — which translates to 'sell it' in English — out of his kitchen table in January this year, backed by $150,000 from his own pocket, as well as money from his friends.
Nine months afters its conception, Jualo.com has booked more than 120,000 active users. Last month alone it facilitated for 5,000 transactions valued at more than $10 million on secondhand goods that were sold through the platform.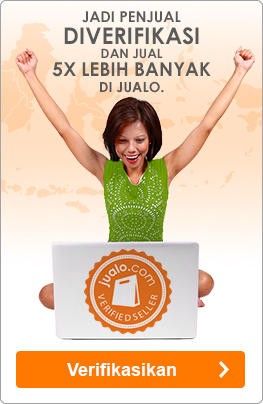 "We were hoping to reach 15,000 active users by the end of the year, but we already passed that in April," said Fetter, a Dutchman who moved to Jakarta from Lombok with his wife and two adopted kids two years ago to start Jualo.
He attributed the success to the buyer-centered features that seek to tackle the three problems Indonesians have with online transactions: trust between buyers and sellers, distribution and payment systems.
For example, Jualo's geo-search function — embedded in its website and Android-based smartphone application — enables buyers to find goods that are located nearby and pay cash on delivery, leaving buyers out of the anxiety of waiting for the goods to arrive.
"If you use the Android app, you can download it and it knows your current location, and then it will show all the advertisements nearby. So, you can meet up with the seller," said Fetter.
In another attempt to smoothen the experience for buyers, sellers can also request for a verified seller badge on their profile, if they submit their identification and tax cards for Jualo to match.
So far, the site's revenue source primarily comes from fee-based premium advertisement, Google advertisements and fixed advertisement banner displays, according to Fetter.
It's also planning a commission-based escrow account, as well as a financing partnership, in which buyers who seek financing assistance for goods — such as motorcycles or cars — are referred to local lenders from the Jualo website.
The company is currently talking with two local banks in order to integrate the lenders' services with the online platform. Fetter, though, declined to name the banks.
Another aspect of Jualo that's unique from its competitors, according to Fetter, is that 5 percent of the site's profit is channeled to Fetter's children advocacy non-profit organization in Lombok, Yayasan Peduli Anak.
Becoming the eBay of Indonesia
"If you want to find secondhand goods in America, you go to eBay. In Indonesia, that will be Jualo," he said, alluding to the e-commerce giant that's based in San Jose, California.
Fetter added that the site seeks to grow its active user base by fourfold by the end of next year on the back of its buyer-focused business model, as well as an efficient and targeted marketing plan.
He declined to discuss the plan in detail but stressed that unlike his competitors, television advertisements are out of the question for Jualo.
Still, the company's success is hard to ignore. So far, Fetter said that he's already been approached by some local and foreign investors — including venture capitalists from Singapore, Japan, Malaysia and Silicon Valley in the US — that are interested in supporting the company.
"We are talking with some investors — some seed investors and some series-A investors. We hope to secure the funding by the end of the year," he said, referring to investment types that are typically given to companies that are still in the very early stages of development.